Dudley Winter Ales Fayre 2021
Dudley & South Staffordshire CAMRA are proud to bring you the 2021 Dudley Winter Ales Fayre...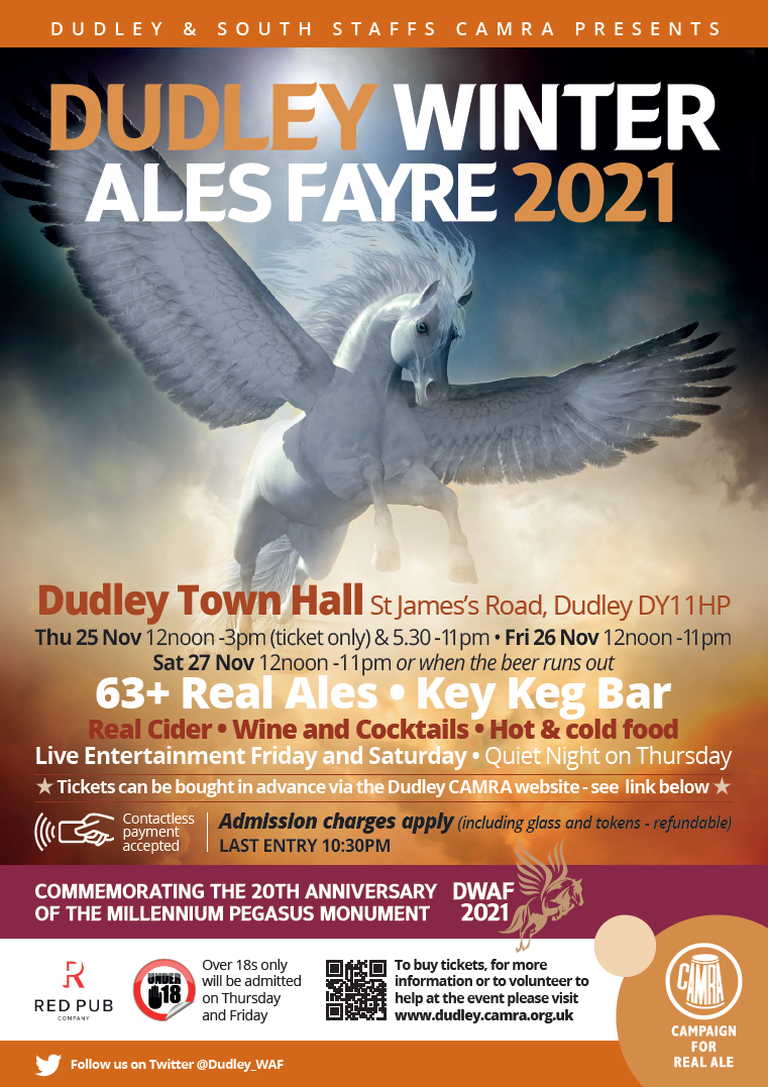 When is it taking part?
Thursday 25th November 2021 to Saturday 27th November.
Where's it taking place?
Dudley Town Hall, just north of the town centre.
St James's Road,
Dudley,
West Midlands,
DY1 1LQ
When are the opening hours?
Thursday 12:00 - 15:00 (pre ticket holders only), then 17:30 - 23:00
Friday 12:00 - 23:00
Saturday 12:00 - 23:00 (or when the beer runs out)
What will you be serving?
We will be serving over 63 different choices of real ale, as well as "key keg" beers, cider, wine and cocktails. The beer list is on this page... https://dudley.camra.org.uk/viewnode.php?id=149545
How much does it cost to get in?
Dependant on the day, although CAMRA members get the additional benefit of a different tariff. Presales are also subject to fifty pence booking fee. Glasses are refundable.
Thursday 12:00 - 15:00 By advance booking only
Ticket price £20.50

Members: £3.00 admission, £3.00 refundable glass charge, £14.00 tokens, 50p booking fee.
Non-members: £6.00 admission, £3.00 refundable glass charge, £11.00 tokens, 50p booking fee.


Thursday 17:00 - 23:00 / Friday 12:00 - 23:00
Ticket price £20.00
Members £3.00 admission, £3.00 refundable glass charge, £14.00 tokens
Non-members £6.00 admission, £3.00 refundable glass charge, £11.00 tokens


Saturday No advance tickets available
Members: Ticket price £10: £3.00 glass charge, £7.00 tokens
Non-members Ticket price: £15, £3.00 admission, £3.00 glass charge, £9 tokens


Can I pay 'contactless'?
Yes, both cash and contactless.
How do I purchase tickets in advance?
See DWAF pre-sale tickets - We did have some problems this week with the page, but it is working properly now.
Can under 18s attend?
Only on Saturday which is a "family" day
Will there be any entertainment?
Two acts on Friday evening with three acts during the day on Saturday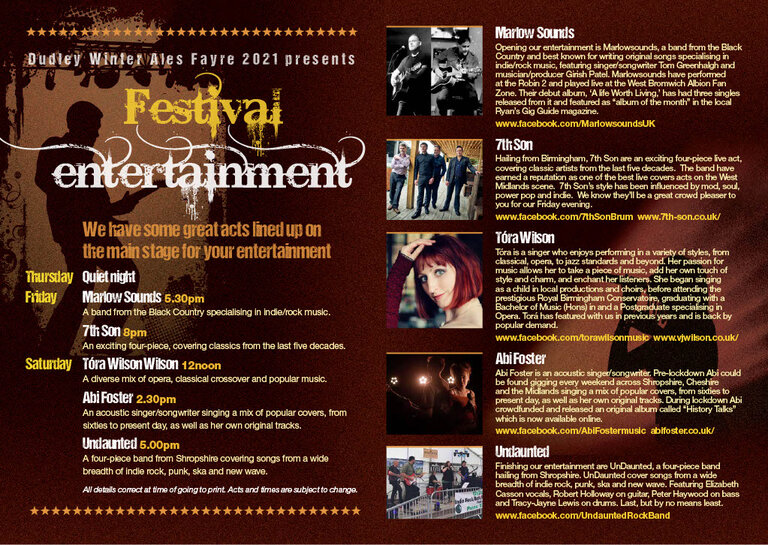 Can I volunteer?
Most certainly. Click on the DWAF 2021 volunteering link.
What's the best way to get there?
We'd recommend using buses in to Dudley Town Centre, which serves many routes around the Black Country and Birmingham.
Click and use Google Maps - Dudley Bus Garage to Town Hall to get from the garage to the town hall, which is a 5-10 minute walk.
Nearest main line railway stations are Sandwell & Dudley, Wolverhampton and Birmingham New Street with Dudley Port being the nearest local station, however this is still a good mile from the town hall.
For drivers, we recommend looking at options within https://en.parkopedia.co.uk/parking/near/dudley-town-hall/
Are there any considerations for COVID?
It's key that we keep ourselves safe and we would ask all patrons to keep a respective distance between others. The town hall's windows will be kept open to circulate fresh air within. Of course, that does mean that it may be cooler than usual. Hand gel is available, and we would ask that you consider wearing facemasks where it's possible.
Can I attend if I have had symptoms of COVID or are awaiting a result?
We would respectfully ask that you don't attend. If you have pre-booked and are unable to attend from a positive PCR test, please contact us so we can look in to a potential refund.