Dudley Winters Ales Fayre 2023
The Dudley & South Staffordshire branch for the Campaign for Real Ale are proud to announce Dudley Winter Ales Fayre 2023.
DWAF commemorates the life of The Crooked House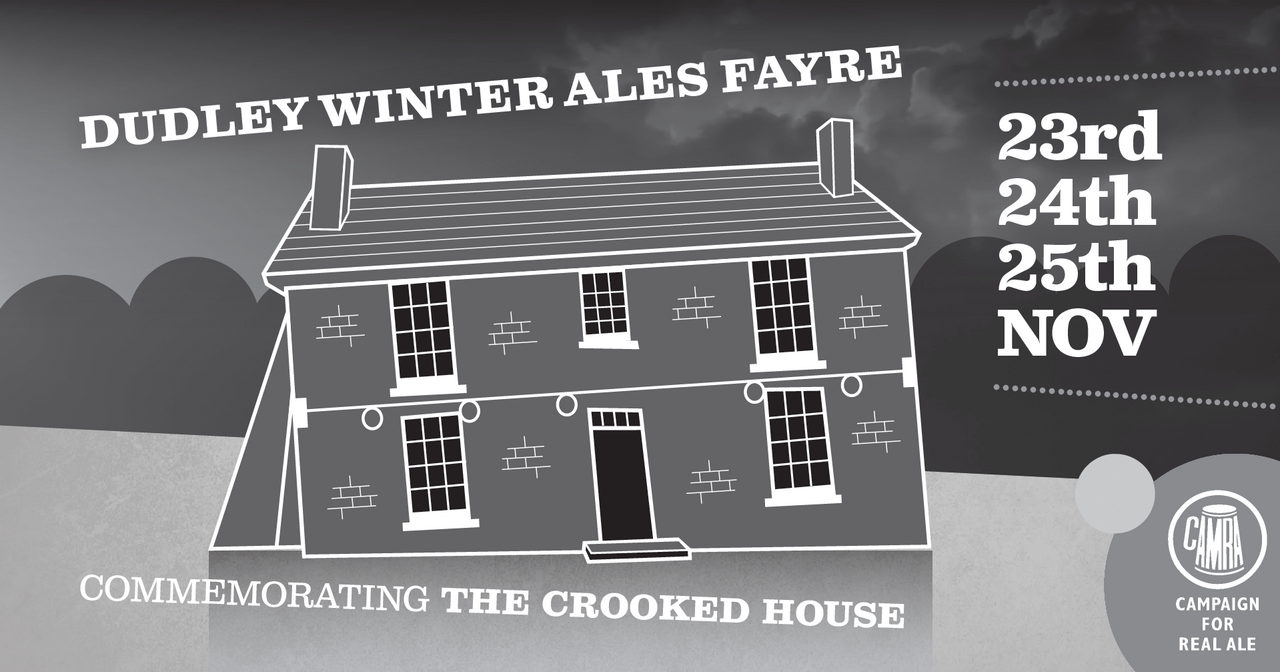 This page is now archived. Thanks got supporting DWAF 23. If you have any feedback, feel free to record it here: https://t.ly/aWEt2
What is the Dudley Winter Ales Fayre?
It's our annual beer festival event where you're able to purchase and enjoy a selection of over seventy real ales and ciders.
Where is it?
In the heart of the Black Country at Dudley Town Hall, St James' Road, Dudley, DY1 1HP
What3Words - Dudley Town Hall
When is it?
As usual we'll be running in to the last weekend of November. It's on from Thursday 23 to Saturday 25 November. On Thursday we'll be open 15:00 - 22:00, Friday 11:00 - 22:00 and Saturday 11:00 to 22:00, although it may be earlier if the beer runs out.
What's CAMRA?
CAMRA is the Campaign For Real Ale. A consumer organisation set up in 1971, with a vision to have quality real ale, cider and perry and thriving pubs in every community.
What does the logo represent?
Many were impacted by the sad news earlier in the year about the loss of The Crooked House in Himley. We cannot underestimate what a loss this historic building was to the community. So we thought it was fitting to celebrate the life of the building. It may have gone, but it will never be forgotten.
Is this open to everyone?
It's open to adults, CAMRA members or otherwise, with all ages allowed to attend on Saturday. CAMRA members will be able to get in for FREE, with non CAMRA members paying a £10 entrance fee. However, if you join CAMRA at the event, you will get tokens of four half pint drinks to use at the festival.
To see the benefits of joining CAMRA, look to Join CAMRA .
Who runs the event?
The entire event is managed by volunteers associated to CAMRA. Support is also provided by the team at Dudley Town Hall.
Can I volunteer?
You most certainly can. Volunteers who supported us previously have been emailed to advise that we are proceeding. You won't be paid for volunteering but we do supply tokens which can be used during the event. In short: volunteers get free beer!
If you wish to volunteer, please complete this form: DWAF 2023 volunteering form.
What's going to be on offer?
We will have over 70 beers and ciders on offer, with a focus on regional choices. Here's a list of the breweries that will feature, and a link below that allows you to download the latest version of the beer selection...
DWAF 2023
ABV =/< 4.0 %
ABV 4.1-4.5%
ABV 4.6-5.0%
ABV 5.1-6.0%
ABV =/> 6.1%
Blond
to
golden
01.AJ's
26.Fixed Wheel
28.Fountain
29.Frothy Blowers
34.Holdens
52.Silhill
02.All Nations
08.Bewdley
10.Black Country
18.Davenports
27.Fountain
33.Hobsons
36.Hop Shed
55.Trinity
57.Two Towers
59.Woodcote

16.Copper Beech
40.Lymestone
42.Morton

14.Byatts
48.Plan B
58.Windmill Hill


38.Kinver


Amber
to
mid
brown
19.Dow Bridge
31.Green Duck
47.Peakstone Rock

04.Bathams
12.BOA
43.Newbridge
46.Olde Swan

11.Black Country

49.Salopian
05.Bathams
22.Enville
51.Sarah Hughes

Dark
brown
to
black
17.Davenports

13.Burton Bridge
32.Harveys
39.Ludlow
53.Titanic
54.Titanic
56.Twisted Barrel

03.Angel Ales
06.Beowulf
09.Birmingham
15.Church End
20.Elgoods
24.Firs
25.Fixed Wheel
44.North Cotswold
60.Wye Valley

23.Enville
30.Green Duck
37.Kinver
50.Sarah Hughes

07.Beowulf
21.Elland
35.Holdens
41.Moor Beer
45.Olde Swan

Bold=Winners of awards at GBBF Winter or Summer.
Underlined=Either brand new, or making their first appearance this year.
Download the latest copy of the drinks available at this link: https://1drv.ms/b/s!AhpwVXomDTMWg8EPNAT1c3F6BjzKDA?e=Zp15jO.
How do I get there?
The event takes place at Dudley Town Hall. Dudley is very well served by many bus routes around Birmingham, Wolverhampton and the Black Country. Then it's a short walk from the bus station to the hall: Google Maps - Dudley Bus Garage to Town Hall (make sure you select "pedestrian route" within this link).
Designated drivers are well served by nearby car parks. We tend to favour Tower Street car park, which is a two-minute walk from the venue (DY1 1NA).
Note: if you're travelling from Wolverhampton by train, take a five minute walk in to Wolverhampton, up to Bilston Street, and catch the number one bus (opposite St George's metro stop). Get off the bus at Priory Street in Dudley and then it's a two minute walk to the Town Hall.
Is there food?
Little Devils will support the festival catering. They will provide hot pulled pork baps, vegetable or chicken samosas, faggots and peas, grey peas and bacon, cheese and onion cobs and pork pies.
Are you making any charitable donations?
Each year we like to donate a portion of our earnings to a local charity. This year we're pleased to support Black Country Food Bank (www.blackcountryfoodbank.org.uk) who support vulnerable individuals and families in crisis. Donations can be made via coin buckets or by way of unused beer tokens.
How will I purchase drinks?
We will be offering contact less payments for buying your beer at the bar. This cuts down on paper and waste and is better for the environment. For those who still like cash, we will have a limited number of tokens you can purchase to buy your beer at the bar. Unused tokens can be refunded (this does not apply to the pre-purchased tokens or for the vouchers given in some circumstances).
Will there be entertainment?
There will be on music acts on Friday and Saturday. Thursday will be a quiet day: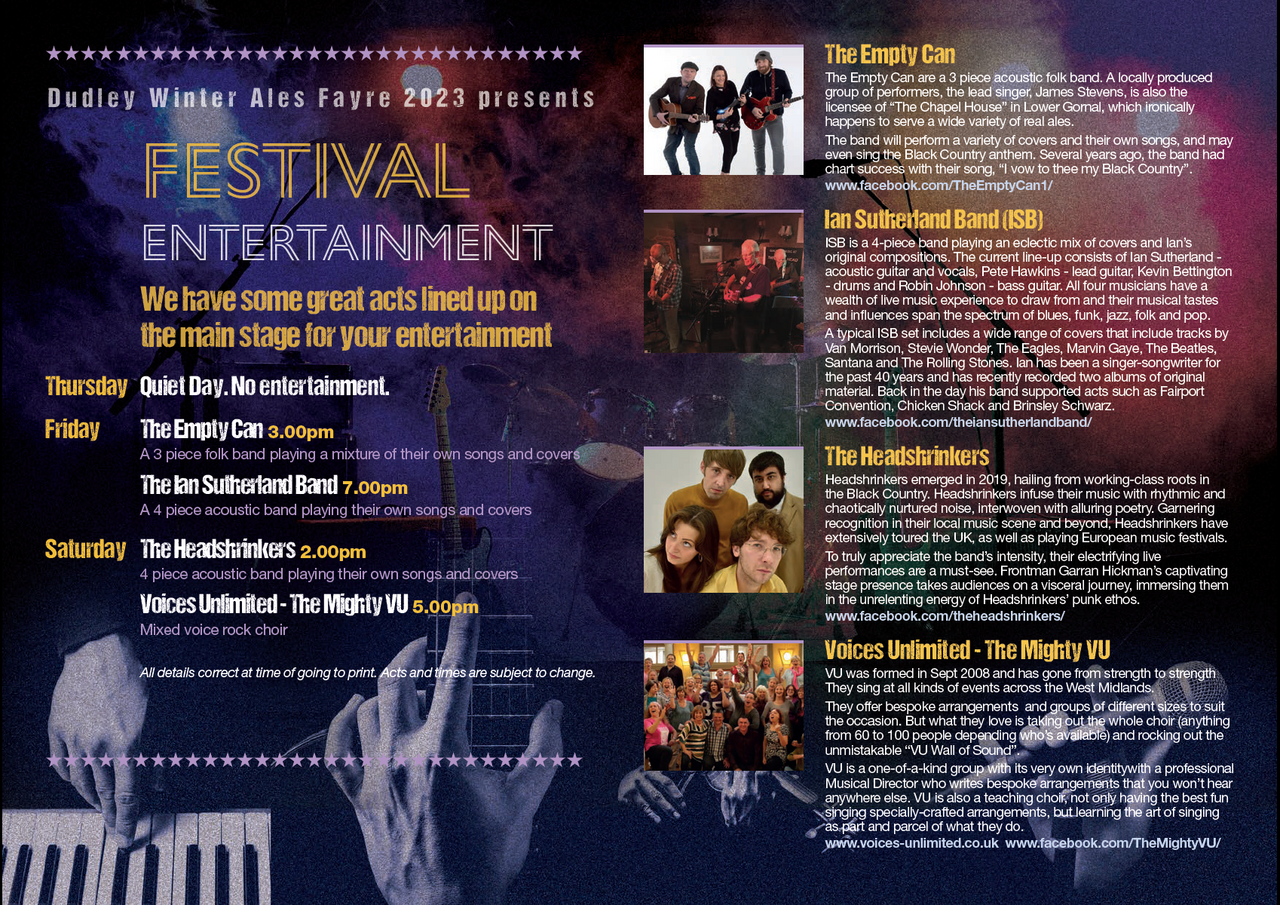 .
What if I'm the designated driver?
We really appreciate the support of designated drivers to get family and friends home safely. For you, entrance will be free and we'll be giving you tokens for two soft drinks, supported by our caterers Little Devils. The team at the door will give you a wrist band to wear.
How much is the beer?
Specific prices to be determined, but we are planning to simplify the structure this year and will be going for an "across the board" approach where we can. Stronger ales are subject to a higher price.
What are the serving sizes?
Thirds and half a pint as usual but in some instances we will also be serving in pints, dependant on strength and whether we have said glasses left.
Do I have to pay for a glass?
To cut down on waste, this year we intend to recycle older glasses. We will, however, be having a limited run of commemorative glasses, which can be purchased either online, prior to the event, or at the festival.
Commemorative glasses you say?
That's right. We have a limited run of commemorative glasses which you'll be able to pre-purchase for the event or buy on site. Click on the pre purchase link at DWAF 23 pre-purchase tickets. This is how they'll look...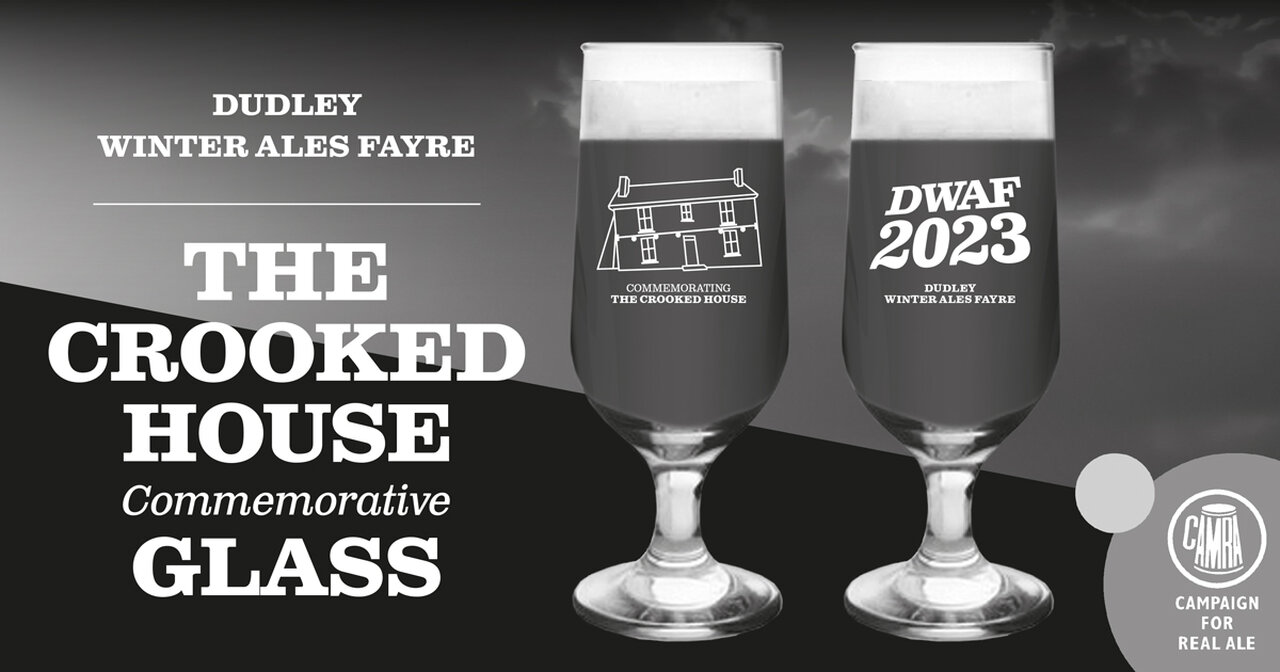 All commemorative glasses can be picked up (if reserved) or purchased at the merchandise stand. Stocks are limited so we'd recommend that you pre purchase.
To ease and control numbers in to the festival, it won't be possible to enter the event purely to pick up a glass. If you wish to do this, you will need to pay the appopriate event admission.
Can I bring children?
Saturday will be a family day so children are welcome. We ask that children are supervised at all times.
What if I have an allergy?
We will show all allergens for the beers on the barrel cards.
Can I pre-purchase tickets?
Yes, we have an option that allows you to purchase entry tickets if you're not a CAMRA members. CAMRA members will be able to utilise the same service for "fast track", which you can use for a drink. Pre-purchasing can be done at DWAF 23 pre-purchase tickets.
Tell me more about "fast track".
As we open each day, we will have a separate queue in place to allow those who have pre-purchased to zip through. As entrance numbers normalise, those who have pre-purchased will come in in the same order as those who have not. If we feel that the queue is getting high, we will look at reintroducing two queues. Essentially "fast track" saves time for you having to purchase on entrance.
Can I still attend if I've not pre-purchased a ticket?
But of course. The pre-purchase element offers priority to getting in (on opening times), but you absolutely can just show up on the day. Payments at the door can be in cash or by card (including contactless).
What can I buy at the event?
We will have on sale some CAMRA merchandise including books and t-shirts. This includes some festival-branded apparel of t-shirts, hoodies and - for first time - we're going to be selling some beanie hats.
Are you able to purchase "takeouts"?
Regrettably you won't be able to purchase beer to take home owing to the new rulings by HMRC. This includes decanting into containers. We would ask that you don't bring anything in to decant into. Naturally it's disappointing, but we absolutely cannot "bend" rules in this regard.
Tell me about timings.
You'll notice that we'll be closing at 10pm each night. This is to allow you time to visit our local pubs before last orders. It also gives our generous volunteers an opportunity to get home at a reasonable time after all the clean downs.
You'll also see that we have changed the "early bird" event from last year. Once we're open, we'll be staying open for the rest of that day.
How can I get home safely?
If you're visiting the Dudley Winter Ales Fayre this week we're keen that you get home safely.
If you have a designated driver, they can get in for free. We'll provide them with two free soft drinks. They'll just need to wear a wristband.
Or, maybe public transport is your preferred option? If so, Transport for West Midlands have been super helpful and put together a link that shows real time departures from Dudley's Bus Station. The festival programme has a QR code link. So you can enjoy some beers, safe in the knowledge that there's a warm, cosy bus to get you back.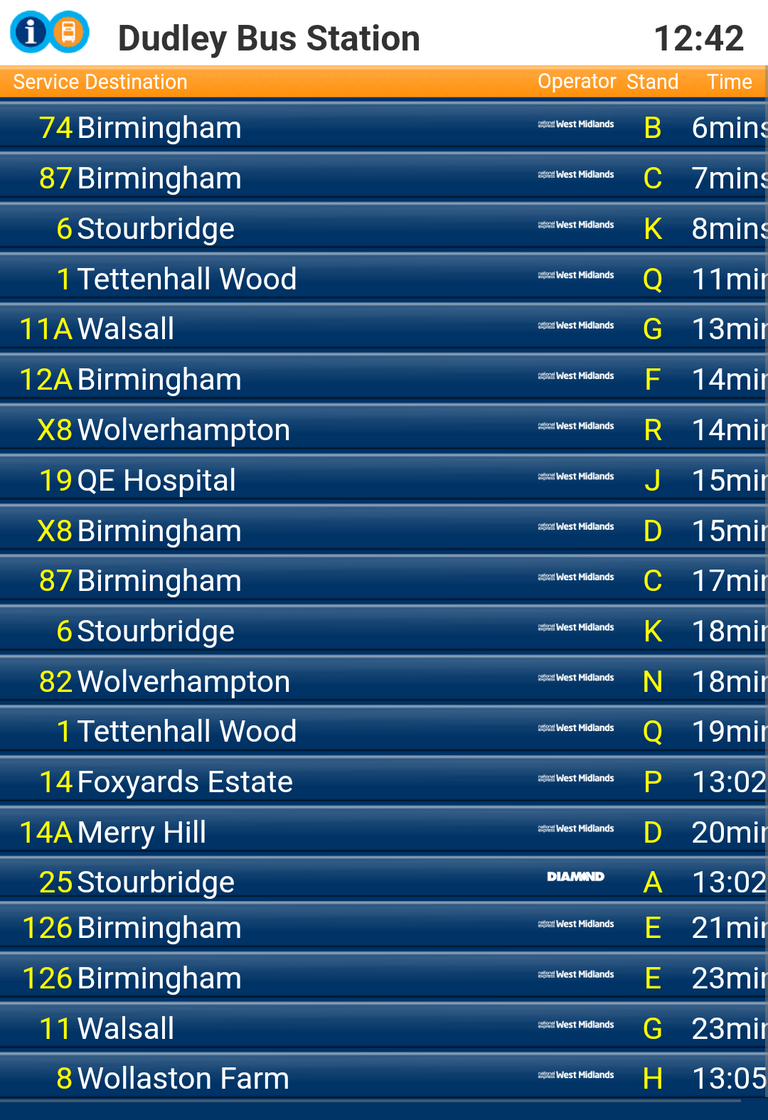 I still have questions.
No problem. We are updating this page regularly, but don't hesitate to email us at ku.gro.armac.yeldud@retsambew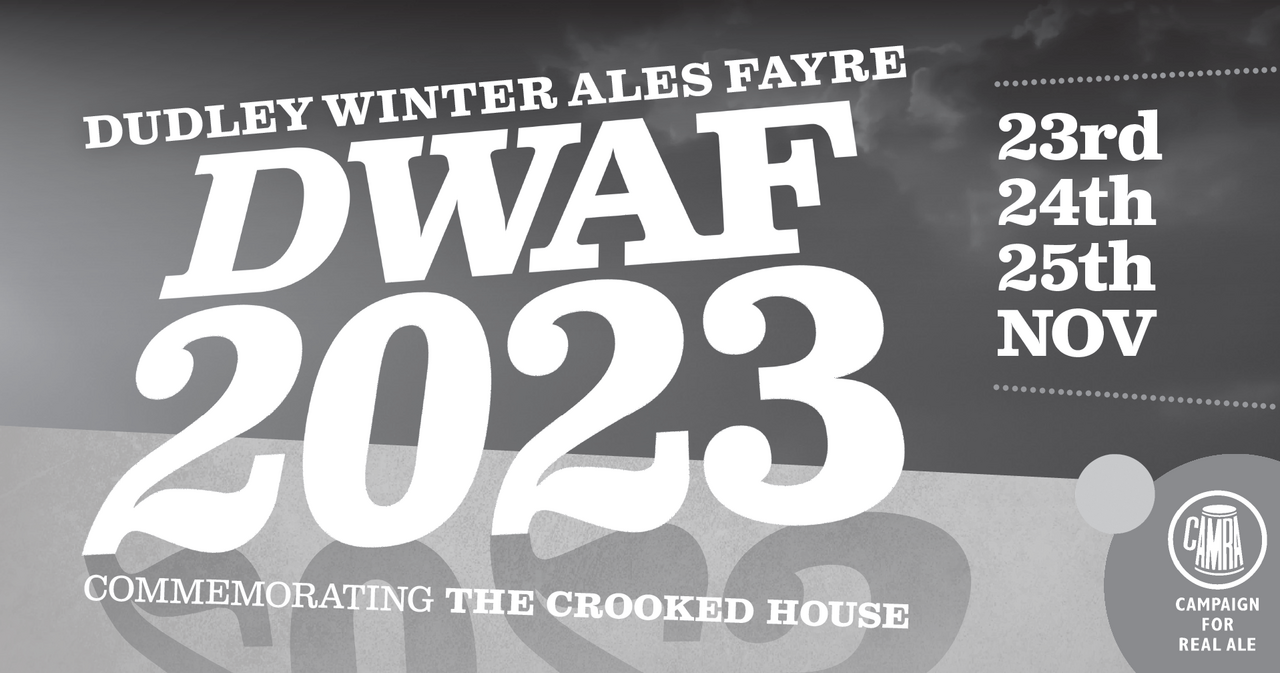 Updates:
23 September - designated driver scheme and confirmation of caterers.
27 September - situation on takeouts
1 October - update on commemorative glasses
12 October - various updates, but chiefly around ticket purchases.
22 October - update that commemorative glasses to be picked up at merchandise store and "early bird" clarifications.
29 October - table included of the breweries
8 November - minor amendments, chiefly around merchandise, transport and getting here plus a clearer definition of "fast track".
14 November- update on some prowse, and our charitable donations.
17 November - image of entertainment, W3W link and the hyperlink for the beer list download.
20 November - getting home safely, in particular the real time updates